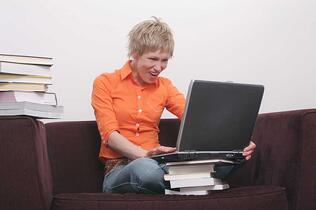 After outgrowing and "graduating" from the spreadsheet management technique, I used Quickbooks for several sessions as my only management system for managing class enrollment in an enrichment studio. You can do a lot by defining families as customers, students as jobs and setting up memorized invoices for each class. However, very soon the limitations of using an accounting system as a registration database drove me to a more modern database approach.
Modern dance studio management systems for tracking family/student enrollments are the natural, and the best, place to keep on top of customer fees and payments. But this raises the question of how to use them in combination with the rest of your financial accounting systems and processes.
My approach, using
YourVirtuoso
and Quickbooks as an example, is described below.
YourVirtuoso is designed to complement the sophisticated accounting functions of products such as QuickBooks with
web-based services
that are customized for your business (web-site creation,
online registration
etc.) We recommend that you use each of these two products for the things that they excel at, namely:
Use YourVirtuoso to manage customers, sales, receivables, payments and sales tax.
Use Quickbooks to manage expenses, payables, payroll, loans, bank accounts etc.
Use Quickbooks to pull the whole business picture together for P&L, management accounting and tax purposes.
To achieve this, you need only transfer
summary
sales and payment information from YourVirtuoso to QuickBooks. You will not need (or want) to track individual customers in Quickbooks. Tracking individual customers in two systems is always fraught with difficulties, extra work, and potential errors, as the systems inevitably get out of sync.
Making these entries will depend on how you choose to handle financial reporting, and may depend on the preferences of your accountant if you have one. I have seen 3 approaches used, of varying complexity:
Basic cash accounting: This is probably how you report your financials for tax purposes, and is the simplest. In this method, you simply take your payments, less refunds, for the month and enter those in quickbooks as a sale. You can provide a little more detail by entering separate amounts for cash/check/card if you wish to track this. However, it is not usually possible to track different aspects of your business this way(curricula, locations…) as payments are tied to a customer, but not always split by your various business categories.
Full Accrual: This approach is complex to implement, but has been suggested by some business owners. The goal is to track Sales and Accounts Receivable in Quickbooks in such a way that pre-sales (e.g. from a customer registering for a 3 month session) are allocated specifically to the month in which the services are delivered. This gets us back to problems of synchronization, when class schedules change, and with student drops and refunds. While it is possible, it is not recommended unless this level of accrual accounting is critical to your business.
Partial Accrual: The most common approach, and the one we currently recommend, is to track your overall Sales and Accounts Receivable in Quickbooks (but not the individual customers). This is a good compromise, which maintains a simple monthly entry into Quickbooks, with the ability to track detail of sales sources and summary A/R on a monthly basis. You just set up a "customer" in Quickbooks to represent all the customers in YourVirtuoso, run a YourVirtuoso finance report, and make the following three types of entry in QuickBooks:
Monthly Sales: Using a monthly invoice which can also handle sales tax and the breakdown by location and sales type (tuition fees, materials, birthday partys…)
Payments/Deposits: Entered as you make a deposit (at least monthly) for checks, cash; and whenever your merchant account (credit cards) deposits funds
Refunds: Entered as you write a refund check
If you are a YourVirtuoso user, a "How To" document is available to show the specific steps to set up an account and a memorized transaction for Quickbooks for you to use each month.
I'd love to hear from you if you have better ways, or different needs. Just add your comments below...
Topics: Management, Online Registration, Payments, Dance Studio